Ray-Don Enterprises specializes in using the internet, data CDs, and other resources to help clients organize and document information about their family heritage. Services include searching of census and marriage indexes, extracting census data, organizing information, and obtaining documents to support research. Ray-Don Enterprises offers clients a FREE INITIAL CONSULTATION.
Rita is a retired teacher who has been doing genealogical research for more than twenty years. She has taken classes and attended workshops to enhance her research skills.

Rita has compiled a family history on CD of her Ray and Mitchell families. She is currently working on a resource manual for doing census research in specific areas of the United States.

Rita maintains memberships in the National Genealogical Society, the McAllen Genealogical Society, and the Association of Professional Genealogists. She loves the challenge of a good puzzle.

Wanda is also a retired teacher who has taken a number of classes in library science. In addition to her activities with Ray-Don Enterprises, she volunteers as a Friend of the Library at McAllen Memorial Library.

Wanda has used her organizational skills to publish directories for her homeowners' association for the past three years; she has also abstracted and indexed the association's records for the years 1990-2001. Officers of the association frequently call on her to locate information in the association's records.
---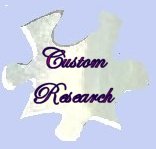 Revised August 12, 2005